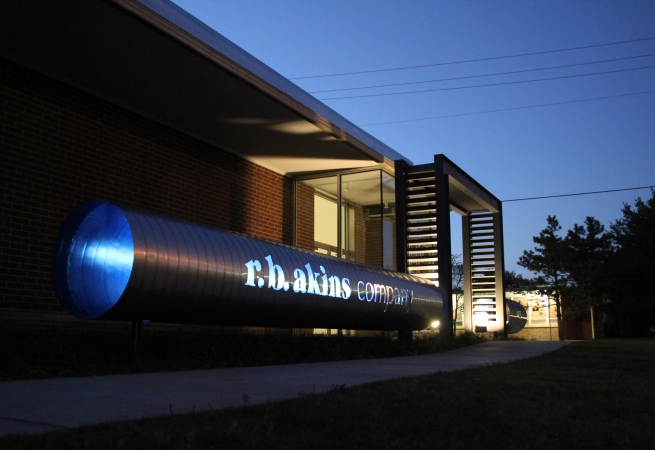 R.B. Akins Company
Projects: Business
Oklahoma City, OK
Originally a warehouse building from the 1950's, the 33,000 square foot structure underwent a complete interior renovation in 2010. The building has a total of 12,000 square feet of office space with 21,000 square feet of warehouse space. Along with a uniquely designed showroom and training facility, the office itself serves as a working demo for the product lines we represent.
The award-winning design of the building has been featured in several architectural publications. 
Equipment:
Ebtron Airflow Monitoring Stations
Ebtron Bleed Sensors
Ebtron People Counter
EHG Spiral Pipe
KE Fibertec Fabric Ductwork
Liebert Power APM
Liebert Power Busway
Liebert Server Racks
Liebert Thermal Management CRV's
Loren Cook Exhaust Fans
MacroAir HVLS Fan
Mitsubishi Electric VRF R2
Mitsubishi Electric VFD's
Neptronic Humidifier
PQI Transformers
Ruskin Architectural Louvers
Ruskin Dampers
Ruskin Equipment Screen
Titus Air Distribution Devices
Titus Terminal Units
Architect
Elliott + Associates
Engineer:
Determan Scheirman, Inc.
Image Credit:
Christie Akins